ginger
Chaterator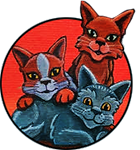 Current Cats:

: honeyfang


Mentors:

: Me


Posts

: 32


Join date

: 2018-06-01


Location

: ~Inside of the Ripped God Shrine~


Subject: honeyfang of thunderclan Thu Jun 07, 2018 11:43 am

---

Name: Honeyfang

Clan: Thunderclan

Current Rank: Warrior (age-adjusting; form below)

Aspirations: To reclaim her home and her legacy, and make Thunderclan as fierce and great as the days of the past.

Appearance/Image:

 
Personality: Honey is a fiery and strong-willed, known for letting her emotions overwhelm her good sense. She has a strong sense of pride, both in her skills in battle and in her heritage; her roots as pure Thunderclan reaching down to the days of its foundations. Has little patience for fools.
Having grown up with a critical mother -- one she greatly respects for her leadership -- Honey holds herself to unrealistic standards, and struggles to overcome a deep sense of inadequacy. Copes poorly with shame, and forces through any lingering insecurities with sheer confidence – that as a Thunderclan warrior, she can and she will. Tends to force her beliefs upon reality.

While often perceived as shallow and arrogant by the cats around (who aren't entirely wrong), her sharp, argumentative nature masks a deep sense of righteousness. She believes in the greatness of her clan, but she also believes strongly in the warrior code, and has a rigid sense of honor. Warrior form:Where did they come from?

Honey is descended from Thunderclan cats, and prides herself on her pure heritage -- untainted by rogue or kittypet blood, as so many clan cats now are. Her parents were very prideful of their roots and considered themselves above rogue life; following the warrior code faithfully within their hearts, even as they ventured beyond their home.

How do they feel about their clan?

Even though the only life she knows is as a rogue, she was raised on the stories of Clan life; taught to hold those values so highly it has become a part of her. Her mother was determined that one day, Thunderclan would return to greatness; and Honey has been waiting for this day all her life... and now it has finally come. 

What did they feel like seeing the lake for the first time?

Honey felt amazed; in awe. Her first pawstep upon the grass of the forest felt so natural; so right -- as if she were returning to a home so long lost she could feel it in her bones. She knows she is meant to be here.

Are they ready to fight for their Clan?Honey would be insulted by the question! She feels she was born to fight for Thunderclan -- has been fighting for her small group of Thunderclan cats for as long as she's been alive. Her mother led the small band of cats that was once Thunderclan; Honey feels that responsibility has fallen to her, after her mother's death.
Mosspool
System Servant





Current Cats:

: Duskpetal ♀ | Sorrelpelt ♂


Posts

: 115


Join date

: 2018-02-23


Subject: Re: honeyfang of thunderclan Thu Jun 07, 2018 11:53 am

---

Never. Go back to SkyClan. Heathen.
Ripped
Master of Plots





Current Cats:

: Rippedsky of Skyclan, Dawnbreak of Skyclan, Shadowbreeze of Thunderclan, Brackenthorn of Windclan, Redwhisker of Riverclan


Mentors:

: Ravenheart (NPC)


Posts

: 81


Join date

: 2018-05-29


Age

: 21


Location

: in the pit


Subject: Re: honeyfang of thunderclan Thu Jun 07, 2018 11:55 am

---

I approve even if Moss doesn't <3

_________________

Character Profiles | Plotting Pages | Reminder Board



Rippedsky of Skyclan // color=#006699 // Warrior
Dawnbreak of Skyclan // color=#ff9900 // Something
Shadowbreeze of Thunderclan // color=#cccc00 // Kit
Brackenthorn of Windclan // color=#663300 // Young Warrior
Redwhisker of Riverclan // color=#cc0033 // Young Warrior (But really an old man)
Mousetuft of Shadowclan // color=#669900 // Young Warrior

ginger
Chaterator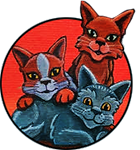 Current Cats:

: honeyfang


Mentors:

: Me


Posts

: 32


Join date

: 2018-06-01


Location

: ~Inside of the Ripped God Shrine~


Subject: Re: honeyfang of thunderclan Thu Jun 07, 2018 11:59 am

---

Thank you, Ripped. <3 

and go to h*ll shadowclan heathen!!! 
Sponsored content

Subject: Re: honeyfang of thunderclan

---